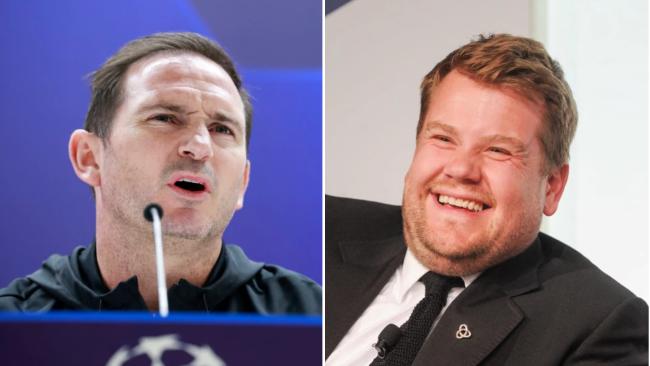 Frank Lampard has played down suggestions James Corden played a key role in his return to Stamford Bridge, while he also sent a classy message to Antonio Rudiger ahead of their reunion.
The Blues axed Graham Potter last month and decided to bring in Lampard – who was sacked by Everton this season – until the end of the campaign while they conduct a search for a new permanent manager.




Over the weekend, reports emerged claiming TV personality Corden played a role in Lampard's return having becoming friends with the club's American co-owner Todd Boehly over the past year.
The billionaire – who has a number of media ventures and owns the Golden Globes – enjoyed a night out in London with Corden this season and invited him to watch a match.
Corden knows Lampard through Sky show A League Of Their Own – where Lampard's cousin Jamie Redknapp is one of the captains – and The Sun claimed he had recommended him to Boehly.
While Lampard claims he has no idea of the reports, he was not best pleased with the question and suggested Chelsea's owners would seek the opinion of more than just Corden before making decision.

Asked about the reports ahead of facing Real Madrid, Lampard replied: 'I saw the headline about James Corden. I'm absolutely not aware if it's true or not. But it's obviously a great headline to put together, casually, from the outside.
'So I think when I look at the success of Todd Boehly, the owners of Chelsea football club, I think you have to respect that success and respect the idea that they will probably make decisions based on more than a conversation with one person.

'So that's as much as I'm going to give your two questions.'
Wednesday's clash with Real Madrid at the Bernabeu sees Lampard come up against Rudiger – who he nearly sold in his first spell in charge of Chelsea, only for the defender to thrive under Thomas Tuchel – but he says there are no hard feelings.
'I think Toni Rudiger has done fantastically well. When I last saw him – I was Everton manager [playing against] Chelsea – I wished him well with the Madrid move, which was happening at the time,' said Lampard.
'My relationship with him was fine. A lot of people obviously like to speculate on relationships outside of the football club, and as a manager of Chelsea – which I was and I am again now – you have 25, 27 players, you have decisions to make every week.
'Antonio Rudiger played a lot for me. But obviously our story ended and another story continued as part of a successful Champions League-winning team. And he was a big part of it.




'And now he's had his move, so good luck to him. Good luck to any professional who works as hard as Toni has in his career. From the early part of his career to coming and playing for Chelsea and Real Madrid, he fully deserves it.'