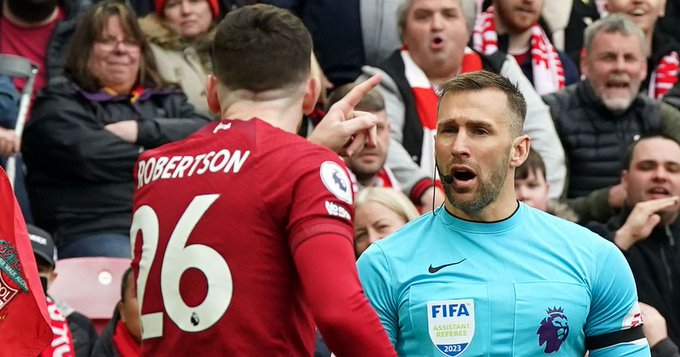 Assistant referee Constantine Hatzidakis will not be involved in any games while an FA investigation is ongoing into an incident with Andy Robertson on Sunday.
The bizarre scene saw Robertson shouting at the linesman after the break at Anfield in Liverpool's 2-2 draw with Arsenal.




Robertson put his hands out towards the official and Hatzidakis seemed to throw out his arm to push him off, although footage revealed he may have caught the Scot on the chin with his elbow.
During the game, Professional Game Match Officials Limited issued a statement: 'PGMOL is aware of an incident involving assistant referee Constantine Hatzidakis and Liverpool defender Andrew Robertson at half-time during the Liverpool v Arsenal fixture at Anfield.
'We will review the matter in full once the game has concluded.'
On Monday they added: 'PGMOL will not be appointing Constantine Hatzidakis to fixtures in any of the competition it serves whilst The FA investigates the incident involving the assistant referee and Liverpool defender Andrew Robertson at Anfield.'

Ex-Premier League referee Mark Halsey claims he has never seen anything like it and believes the linesman could face an eight-match ban if found to be in the wrong.
Fulham's Aleksander Mitrovic has recently been hit with an eight-game ban for putting his hands on an official, and Halsey says Hatzidakis could get the same punishment.

'Officials are the guardians of standards on the field of play and looking back at that, I think he will be regretting his actions,' Halsey said on talkSPORT. 'Having said that, I think that the PGMOL are going to do their investigations.
'For me, Robertson approaches him and it looks like he goes to touch him and then the assistant flicks his arm up. He shouldn't have done that. What he should have done is go to the referee and reported it and let him take action.
'But if he's found guilty of an act of violent conduct then he should take his punishment in the same way that Mitrovic has just taken his punishment.
'They're both professionals, Robertson is a professional player and the assistant is a professional assistant referee. We're just guessing at what has gone on and we have to wait for the investigation to take place.




'It's something that I've never seen before and so there's a first time for everything, but if he's guilty he has to suffer the consequences.'
On the length of punishment, Halsey said: 'You've got to look at Mitrovic, haven't you?
'He was banned for eight games for the use of technical assault, they could say that the assistant has technically assaulted a player. You're looking at two similar incidents, aren't you?
'Obviously, if found guilty, he has to suffer the consequences of an eight-game ban because they've set a precedent.'