Manchester United manager Jose Mourinho launched a strong defence of his use of forward Marcus Rashford in today's press conference and took a dig at Jurgen Klopp and Maurizio Sarri.
Rashford scored in both of England's matches this week playing in a centre forward position and Liverpool legend Jamie Carragher advised him to leave Old Trafford for the good of his career.




The forward is stuck behind Romelu Lukaku and Alexis Sanchez in the pecking order at the club but no outfield player has featured more under Jose Mourinho than the England international since his appointment in 2016.
In taking a dig at the lack of minutes given to Chelsea's Ruben Loftus-Cheek and Liverpool's Dominic Solanke, Mourinho fired back at his critics.
'Speaking about Marcus, I think I can expect that Sunday I'm going to be highly criticised for not playing him tomorrow,' joked Mourinho, knowing Rashford is suspended for the Watford clash.
'Because some of the boys are really obsessed with me and some of them have a problem with some compulsive lies, so I can expect that Sunday some of them will wake up in the morning and the first thing they think is Jose Mourinho.




'So I can imagine on Sunday I am going to be criticised for not playing Marcus but is not my fault, he's suspended, so probably you should remind them he is suspended and cannot play.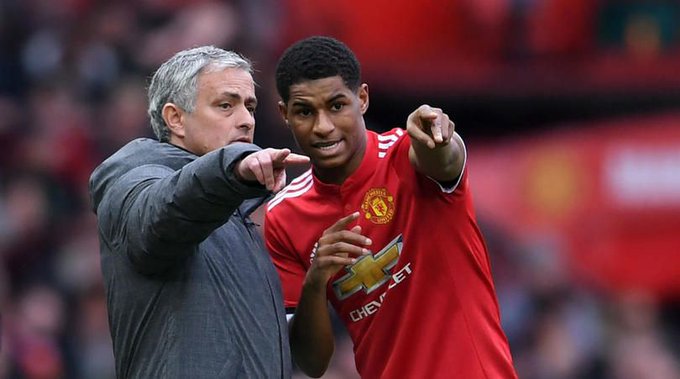 'Performances with England, of course I'm happy, he played well, competed well, he score and especially in a period where he comes with some sadness after his suspension and it was very good that he did that.
'If you don't mind to lose a couple of minutes, I'm going to do something not for you but the United fans and I think I hold myself to the United fans and for them I am going to spend two minutes with you."
'2016-17: Marcus Rashford played 32 Premier League matches, 11 Europa League matches, including the final, three FA Cup matches, six League Cup matches, including the final, and the Community Shield. He had 53 appearances but if you want to take to the minutes of play, he played 3068 and if you want to divide that by 90 minute matches, he played 34.2 matches of 90 minute matches in 2016-17.
'In 2017-18, 35 Premier League matches, eight in Champions League, five in FA Cup, three League Cup matches and the European Super Cup final. He played a total of 52 matches with 2,676 minutes, if you divide that by 90, gives 29.7 matches, so with me, in two seasons, he had 105 appearances, 5774 minutes, 63.7 matches of 90 minutes, including five finals, so the people that is speaking about these minutes, I think they are a bit confused.'




Mourinho then compared Marcus Rashford's minutes on the field to youngsters at Chelsea and Liverpool.
'Marcus Rashford is not Dominic Solanke, not Ruben Loftus-Cheek, not Dominic Calvert-Lewin, is Marcus Rashford, Manchester United player, with an incredible number of appearances and an incredible number of minutes played at the highest level in the best possible competitions, so Manchester United supporters, for you and just for you, to know what we are doing with Marcus Rashford, Luke Shaw, Jesse Lingard, Scott McTominay, that's what we are doing here,'
MORE: Neville claims Manchester United should sell Pogba
'The ones that wake up in the morning [in the media] and the first thing that comes into their mind is Jose Mourinho and Manchester United, I feel sorry for them because here are more exciting things in life. But for the Manchester United supporters is important they have the right idea of how things are in reality.
Click below to follow us for more football updates…
Facebook – @Livesoccerupdates
Twitter – @Lsoccerupdates
Instagram – @Lsoccerupdates
Would you like to receive football updates for free?
WhatsApp the word NEWS to +2349034642498
'But the most important thing of all is that the kid is a good kid, a good player, knows what Manchester United did for him, starting in the academy, then Mr Van Gaal's support, my support, the club's support, new contract, new shirt [number], and selected every single match.'