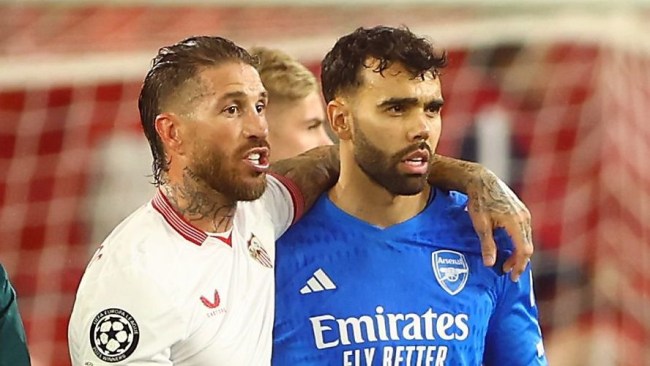 Sergio Ramos believes Arsenal are one of the best teams in the UEFA Champions League after Sevilla's 2-1 defeat on Tuesday.
Gabriel Martinelli put the Gunners in front in first-half injury time at the Ramon Sanchez-Pizjuan Stadium after a superb counter attack, while Gabriel Jesus, who assisted Martinelli's opener, went on to double the visitors' lead eight minutes after the restart with a fine strike.
Nemanja Gudelj handed Sevilla a lifeline with his goal in the 58th minute but the La Liga side were unable to find an equaliser.
Ramos says Sevilla can take positives from their defeat and has praised his teammates for their display against Arsenal, who he claims 'currently play the best in Europe' alongside Real Madrid.
'In the end it is complicated because when you lose the conclusions you draw from it are almost all negative. But regardless of all that, I believe that the team can go home with a clear conscience having emptied itself on the field.
'In the end, the Champions League has those small details. Maybe we were penalised for that goal before the break, which emotionally I think hurt the team,' Ramos said after Sevilla's defeat.
'Then the second, well, we try to react. We conceded a great goal from Jesus and from there I think the team was pushing, they continued to show that character. We scored the first, we tried to go for the second, but well, in the end, as we have said, it's the small details.
'In one against one we had chances to hurt them, knowing that Arsenal are a team that wants to play football, that leaves a lot of space on the line to take advantage of those losses that we sometimes found, but we did not capitalise well enough.
'I think that in the end we played face to face, both against Real Madrid and Arsenal. It is true that it is difficult not to see a difference before we played the teams that, for me, currently play the best in Europe.
'And playing face to face with this type of team and knowing that they create from the back and want to create by playing football from the goalkeeper's kick, is not easy.
'It is true that we need perhaps a little more time for people, the players, to learn more about this new system. But even so, I think the team has done quite a few things well, although football is ultimately a result, right? And you go home screwed but proud of knowing we have given everything within.'
Arsenal are now top of Group B on six point from three matches after their win in Spain, while Lens are second on five points, and both Sevilla and PSV are now on two points.
'I think tranquility is not in our minds. I think that in the end we want to get those six points from the two games and then we'll see what happens,' Ramos said.
'It is true that with the other two teams drawing, winning the next one because we are tied, not with one of five points, then that gives us a little more hope.'
Askd if he believes Sevilla have a chance of beating Arsenal at the Emirates, Ramos said: 'Hopefully. I think that in the end that's the idea, right?
'It is clear that in the end we have to improve step by step, game by game, and that is the idea.
'It is true that you have to believe, you have to be it and look like it. And in that sense, when we go there with the utmost respect, but we have to be convinced that we can win.
'If not, well, if you're already thinking about something else, it's better to stay here. That is the mentality when winning both at Arsenal and Valencia. In the end, this is football. It is a very attractive sport, with a lot of uncertainty, but hey, we are going to try to do everything to do things well and try to achieve the goal.'