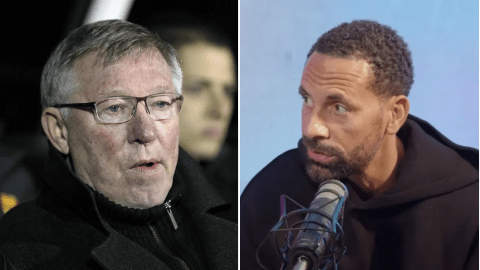 Rio Ferdinand has revealed how Sir Alex Ferguson ignored his request to sign his former England teammate Aaron Lennon for Manchester United.
Lennon was in Leeds United's academy during Ferdinand's time at Elland Road but the duo were both part of England's squad for the World Cup in 2006 and 2010, although Ferdinand missed that tournament due to injury.
Tottenham ended up signing Lennon in a £1m deal from Leeds in 2005 but Ferdinand claims he was urging Ferguson to bring the attacker to Old Trafford.
Ferdinand also revealed how impressed he was with Tom Huddlestone in England's training sessions.
'I don't think I trained with Tom Huddlestone many times but every time I trained with him he left something in that session that afterwards you'd go to one of the lads, 'did you see that from Tom?',' Ferdinand said on Vibe With Five.
'He played with both feet, bearing in mind he was massive, he used to have this skill where he would roll it with his right or left foot, rolls it with one and in the same motion slap pass it with the opposite, mate, hard to do, he's doing it in training full speed, nonchalantly, or smashing a ball off either foot top corner, curling it, anywhere you like it.
'And he wasn't one of the top, top players there, no disrespect but he wasn't.
'Aaron Lennon one time when he was young and got in the team, oh my god, he stopped and started a few people and went through the middle of the pitch and all of us were like [open mouthed].
'Like Fergie, I've gone, 'from what I've seen in training, if he can replicate it in training, we need to get this guy'.'
When asked what Ferguson's response was, Ferdinand said: 'Just never moved on it.'
Ferdinand also believes Jermain Defoe would have thrived at Manchester United under Ferguson.
'The one player I always used to say to him [Ferguson] if you want to buy someone from our England team… Defoe,' Ferdinand said.
'Because he wouldn't have started for us [Manchester United] all the time, but it would've been another type of Chicharito [Javier Hernandez],
that he comes on and all he cares about is scoring, and if we're winning 5-0 he'll want to make it 6-0.
'He's got that inner, 'I need goals, I live, smell and breathe goals'. We would've got him in so many positions to score it would've been a joke.'