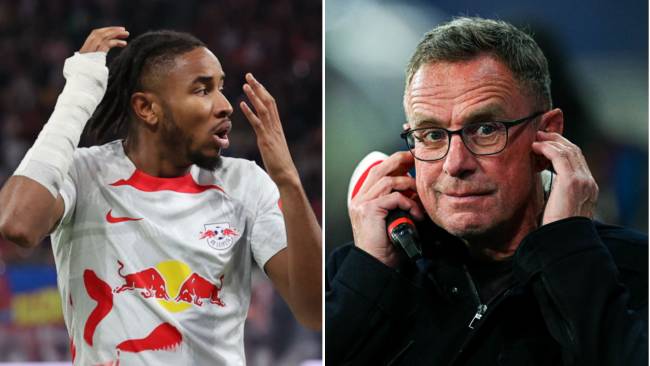 Ralf Rangnick has criticised Christopher Nkunku's decision to sign for Chelsea due to the state the club are in and is not convinced Julian Nagelsmann should follow him.
Although there has been no announcement officially yet, the Blues reportedly agreed a £53m deal to sign the France international all the way back in December.




There had been fears Chelsea's failure to finish in the top four might prompt Nkunku to have a rethink, but he appears to have already signed a contract and will move to Stamford Bridge at the start of July.
Rangnick, who was involved with Leipzig when Nkunku joined the club from Paris Saint-Germain in 2019, knows the player well and recommended him to Manchester United when he first arrived at the club as caretaker manager.




But it is Chelsea who have won the race for a player who scored 20 goals in the Bundesliga last campaign, though Rangnick is concerned that he has made the wrong decision with the Blues now in 11th place in the table.
Asked about Chelsea – who are trying to appoint Nagelsmann – he told ZDF, as per BILD: 'I'm also thinking of a player whose arrival at RB Leipzig I was a little bit involved in: Christopher Nkunku.
'For me, one of the best attacking midfielders currently available and who, in my opinion, decided to move to Chelsea far too early.
'Can you imagine that such an outstanding player comes to a club that is in the state Chelsea are in at the moment?

'Personally, this hurts my heart. If I were his advisor or his father, I would be very worried right now.'
In a veiled warning to Nagelsmann, he added: 'At the moment, no matter who comes as a coach, you can't really recommend anyone to go there. The very first thing to do is establish some sort of strategy and reduce the squad to a reasonable size that any coach can work with.'
Chelsea have gone through four different coaches this campaign – Thomas Tuchel, Graham Potter, Bruno Saltor and now Lampard – and are likely to miss out on European football entirely for next season despite spending £600m in the past year.