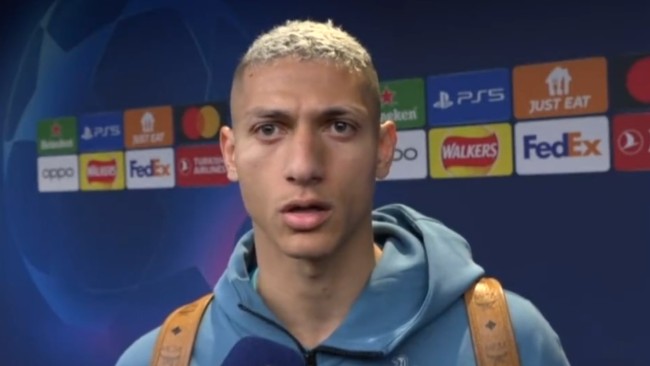 Tottenham forward Richarlison has hit out at Antonio Conte after the club crashed out of the UEFA Champions League on Wednesday after a draw against AC Milan.
The Italian giants won the first leg 1-0 and they are now through to the next stage of the tournament with an aggregate win.




Richarlison was on the bench for the match and came on in the last 20 minutes but he failed to make his mark and influence the game in the final third.
The 25-year-old conceded that it has been a disappointing campaign. Speaking to ESPN Brazil, he revealed that he did not understand Conte's decision to use him as a substitute.
The Brazilian also questioned Cristian Stellini's decision to bench him against Wolverhampton Wanderers.
"That's what I didn't understand, too (being a substitute). It was going well, in a good sequence, two wins against West Ham and Chelsea.




"Suddenly, he (Cristian Stellini) put me on the bench, against Wolverhampton he put me on for five minutes. I asked why? They didn't tell me anything.
"And, yesterday, they asked me to take a test at the gym, that if I was good I would go to the game and, at the time of the game, they left me on the bench. These are things that it is not possible to understand.




"Let's see what he (Conte) will say tomorrow, but there are no fools here either, I'm a professional, I work every day and I want to play. There are minutes left, time left.
"This season, excuse the word, it's been s***, because I don't have minutes, I suffered a little with the injury. But, when I enter the field, I give my life. I came from two games well, I think that's it, I think I should have played and I don't have to cry about it."
The former Everton star is clearly unhappy with the lack of game time and it remains to be seen whether he can convince Conte to give him an extended run in the lineup now.

Richarlison believes he should be starting more often and playing more minutes at the club.
Tottenham paid a fee of around £60m for him at the start of the campaign but the transfer has not worked out for them thus far.