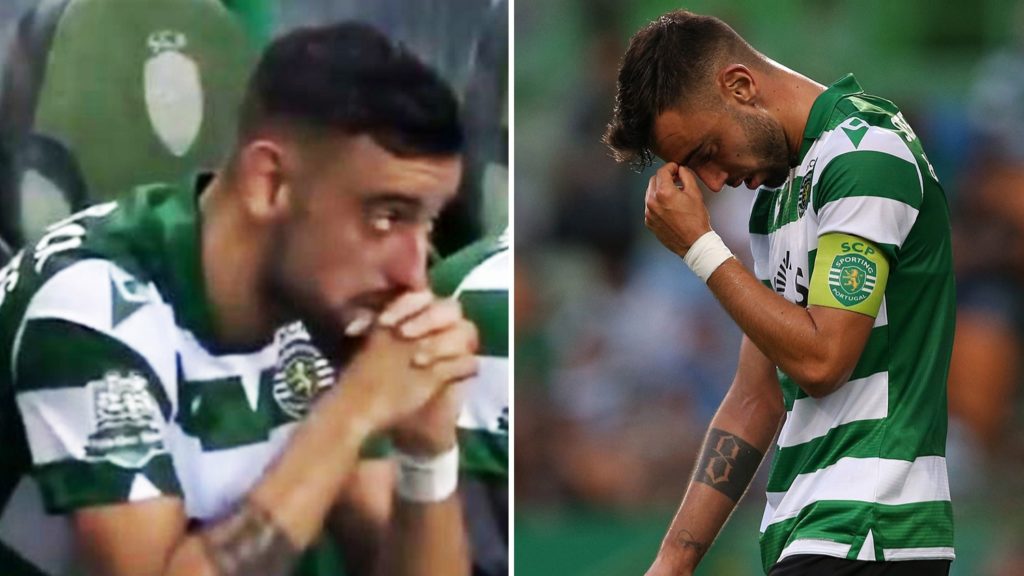 Sporting Lisbon midfielder Bruno Fernandes was in tears after being subbed off in his club's friendly match against Valencia.




The 24-year-old Portuguese star, burst into tears on the bench and welled up as he waved to the crowd in a training top after the match
Manchester United are tipped to complete a move for the goalscoring midfielder, who scored 33 goals in all competitions last campaign.
The impressive feat has not gone unnoticed around Europe and despite several reports saying he has already flown to England for a medical — Fernandes did play.
Supporters watched the game wondering if Fernandes would supply any signs of his likely exit from Sporting Lisbon.




And there were signs of tears in his eyes as the clash with Valencia ended and he got up off bench before donning a grey training sweater and wiping his face.
Asked about Fernandes – who was in the starting line-up – Sporting manager Marcel Keizer conceded he was in the dark about his future.
"We'll see if we can keep our players and then we'll see what we do," he told reporters after the match.
"I hope he [Fernandes] stays, of course, like everyone else at Sporting, but we don't know."




And Manchester United have reportedly agreed a fee of close to £70m for Bruno Fernandes and the Portugal international's move to Old Trafford could be confirmed in the next 48 hours according to reports.
United have also been strongly linked with moves for Sergej Milinkovic-Savic from Lazio in recent weeks — but that appears contingent on Paul Pogba joining Real Madrid.
Ole Gunnar Solskjaer also wants an upgrade at centre-back, with Harry Maguire still at the top of their list — even if the Leicester defender is proving hard to land.




The Red Devils will welcome Chelsea to Old Trafford in their first Premier League game of the season on August 11.