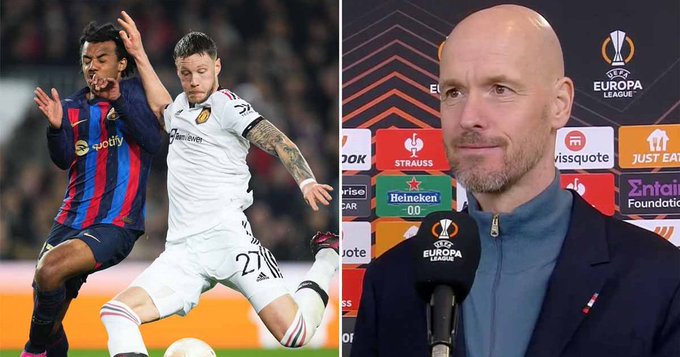 Manchester United head coach Erik ten Hag has praised Wout Weghorst's display in an unfamiliar number 10 role against Barcelona and has explained his reason behind the tactical tweak.
United gave an good performance at Camp Nou in their Europa League knockout round play-off first-leg tie, securing a 2-2 draw.




Weghorst – who only has one goal in nine games now – missed a great chance to open the scoring in the first half but his positioning caused Barca some problems.
The Dutchman was playing behind Marcus Rashford in a deeper, number 10 role with Bruno Fernandes off the right and Jadon Sancho off the left – both of whom would come inside to help the attack.




Ten Hag felt his setup worked well, with the Red Devils rattling a Barca back-line that have been impressive domestically, and wanted to use Weghorst's position to bring others into the match.
Asked about his decision to play Weghorst as a number 10 – and whether it worked – Ten Hag told BT Sport: 'I think so!
'But it's not only about Wout, although he did well in that position and I know he can be [a number 10].
'But it gives us a lot of variation but also I want to bring Jadon [Sancho] and Bruno [Fernandes] coming into half spaces, getting them on the ball and make runs from deep.




'With the full-backs joining in, I think we had a lot of variation and we had a lot of opportunities and we should have won this game.'
Ten Hag added: 'I think we dictated the game, apart from maybe 15 minutes in the first half, we had some difficulties, but in the rest we were dictating the game and we had so many chances.

'I was a little bit disappointed that at half-time it was 0-0 because we should have scored and the opportunities they had we created by ourselves.
'But I think it was a great game. Two attacking teams. I think it was a Champions League game, even more than that, so I really enjoyed the game. In the end [it finished] 2-2, and we have to finish it in Old Trafford.'